Out of all of the books I thought I would review in 2019, I really wasn't counting on this one. Cecelia Ahern recently announced the sequel,
Postscript
, and I knew I would want to read it, so here I am with
P.S., I Love You
, a story I have a complicated past with.
I didn't know it would be so hard to read, even harder to write about.
Let me take you back to fall 2008. I'm in my first year of college, running the student newspaper, eagerly awaiting the birth of my niece. I'm eighteen, in love, and I'm on an old white couch next to the guy I am convinced I'm going to spend the rest of my life with. It's a Sunday and we're bored, idly flipping through cable channels, desperate to find something to watch.
P.S., I Love You
has just started. He looks to me and says, "have you seen this yet? No? It's so great, you'll love it. Let's watch it."
He puts his arm around me and we watch Holly mourn the loss of her husband, Gerry, to cancer. Over the next year, she gets a letter a month from her dead husband, who uses the medium to help her to move on and embrace life - even if it is a life without him. Their relationship isn't perfect, but he loves her in all of the best ways, and that's the warm blanket she wraps herself in each night for that first year.
Halfway through the movie, the guy I'm next to looks at me and says, "You know that's us, right? I love you that much, that's us in a decade. Probably not dead, though."
And this is the promise I hold onto for the next few years in our relationship. I turn a blind eye to the cracks that begin to form several months later, I sail through our first holidays together without letting my disappointment show every time he lowers my place on his to-do list, and I go all out for our anniversary. Later, when I am balancing caring for my niece, college, two jobs, and trying to keep up the brave face I put on to hide my growing fears and concerns in my relationship, I hold on to his promise that he'll be there.
That he'll continue to love me just as deeply, even though all of the signs are pointing to something else.
That the things he says and does are normal, we're going through a rough patch, every couple has one.
And sure, every couple has rough moments, but not like those. Never like those.
When this mess is finally over in 2010, I graduate with my A.A. in Journalism as barely a shell of a human. Every bright, beautiful thing about me has been lost to circumstance, to this boy who may not have truly understood the damage he was doing - or maybe he did and just didn't care. I'll never know, I never want to know. A cancer had grown in our relationship, taken over every good memory we ever made and replaced it with moments that have fueled years of nightmares for me.
Summer of 2010 I was mourning the loss of someone I thought had defined me. I didn't know who I was, if I ever did. Like Holly, I was going to have to start all over again, but without even half of the help this character had...and I resented her for it. I couldn't watch the movie, somehow the beautiful memory of it had become tarnished, and I didn't want to face it. If I couldn't watch the movie, why on earth would I read the book?
A few years later, I found it on HBO and I spent a day watching it. Over and over. I huddled up in my blanket with my cat, and I cried. I let it all out. And then I never watched it again.
Here we are, March 2019, and I am not where I thought I would end up...but I am precisely where I am needed right now. The promise of that sequel was looming over me like a shadow, and I knew I would have to face this monster before I allow myself to conquer that one. It's a DBT technique, I think, opposite action? Could be CBT. I keep mixing up my therapies, I just go through them and find new ways to help myself every day.
I started this book yesterday, and it hurt in ways I hadn't truly anticipated. I am no longer mourning the loss of what was, in the end, a terrible relationship I spent nearly a decade paying for; instead I am grieving the me I lost to that metaphorical cancer, while trying to celebrate the woman that took her place.
Cecilia Ahern is a fantastic writer, and to think this was her debut novel. Book-Holly is infinitely more engaging than Movie-Holly, even though I think Hilary Swank is the tits; Book-Holly has more room to grow, to mourn, to show you the light peeking through the blackout curtains of grief. Perhaps it has more to do with my age than anything else: I'll be 29 in that strange cusp of summer and fall, closer to Holly's age, with infinitely more experience with life and love and men than I had when this began.
Holly picks up the pieces with more grace than I managed - not hard to do, being a fictional character - but she finds a way to reconnect with and support her family and friends that feels very realistic. It's hard to live with trauma, even harder to live
through
it, but Holly takes it in small doses in a way that's very doable.
And it's funny! There's a dry sense of humor to it that's oddly comforting, but I suppose that's the part of me that still longs for England - even though the story takes place in Ireland, I find the humor seems to be a regional thing. It's an easy book to love, the scenes feel like they flow effortlessly together, and you find yourself awaiting Gerry's next letter just as eagerly as Holly does.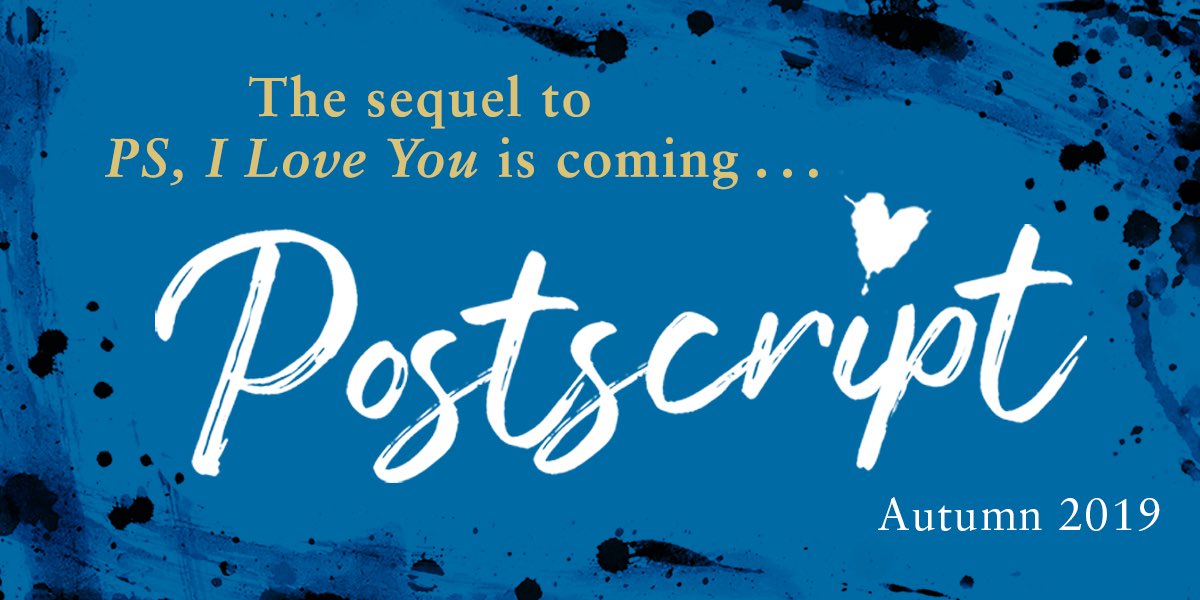 P.S., I Love You
is an ode to letting go, to living through love, and rediscovering yourself in very weird places, sometimes with very weird people. If I had a nickel for every person I've met on my own adventures that have helped me or taught me or changed me, I would have a lot of nickels. Those are always the people you didn't know you needed: the stranger in the grocery store, or at the bar, or on the Tube around midnight who wants to know why you're crying. There's a sort of innate goodness in the human spirit, a desire to help that you don't really notice until years down the road, and I think this book captures all of that.
Even though I'm typing this with a knot in my throat, I'm happy to tell you that
P.S., I Love You
is worth reading, no matter what season your life is in. I'll be picking up
Postscript
when it comes out, I'm interested to see where we go from here.